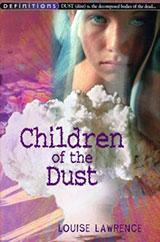 Children of the Dust
There is very little that I remember about my early high school compulsory English reading list, but one book stuck in my head—Children of the Dust by Louise Lawrence. This is a startlingly vivid piece of fiction taking place in and around Gloucestershire during nuclear fallout. Separated into three parts, it follows three generations of one family as humanity struggles to survive in a new environment on Earth.
This book does not shy away from the horrors of warfare, detailing the effects of radiation sickness through the eyes of children, and the stark reality of life for those who survive nuclear winter. It will pull at your heart strings and perhaps even make you angry, but it's a must read and it's not too long either!