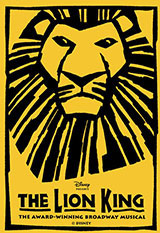 The Lion King musical
I'm a big fan of musicals and have been ever since my parents took me to The Phantom of the Opera when I was small enough to warrant a booster seat. Since then, I've added Les Miserables, Oliver!, Mary Poppins, Dr Zhivago (apparently planned for Broadway in 2014) and The Lion King to my ever increasing list.
Sydney doesn't get as many musicals as London or New York, sadly, but I'm proud to say that I have now seen The Lion King five times (four times in Sydney and once in Hamburg). The endearing tale of young Simba has been one of my favourite stories since the Disney movie came out in 1994. My poor VHS was forced to play at least once a month for my entertainment back in the day! But back to the musical.
The thing which grabs my attention the most about this musical is the fantastic costumes and props, designed by Julie Taymor. I have never seen anything like it in any play or musical before or since. The way in which the African culture is incorporated into the illusion of making people appear as animals is done just so flawlessly and artistically.
If The Lion King comes to your city, go and see it. My personal highlights were: the opening Circle of Life—just wait for the elephant; They Live in You, in which Mufasa 'teaches his son a lesson'; the stampede; Shadowland, in which Nala leaves the pride; and He Lives in You, in which Rafiki shows Simba the reflection of his father. I can't recommend this musical enough. The additions they've made to the original story all work and the additional songs are as great as the originals. I'm also happy to say they got rid of the Morning Report song in the last tour to hit Sydney. This was a very good decision.