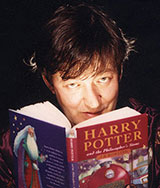 Harry Potter audiobooks
For those who don't know me personally, I'm as enthusiastic about my drawing as I am about my writing, but it's impossible to both draw and read at the same time. So instead of listening to music while I'm working away on my graphics tablet, I listen to Stephen Fry reading Harry Potter audiobooks instead! It's like killing two birds with one Resurrection Stone.
If you've been living under a rock for the last ten years and haven't read the Harry Potter series yet, the audiobooks are an infinitely better choice for your ears while commuting to work than AM radio! Stephen Fry, known for his brilliance as an actor, presenter and writer (and knowledge sponge, as I like to think of him), does an excellent job of narrating these classics. I usually prefer full cast dramatisations of books to pure readings but I can't go past Stephen Fry—that's how great he is.
Listen to the audiobooks! When he reads Hermione having a temper tantrum, it's too hilarious for words!