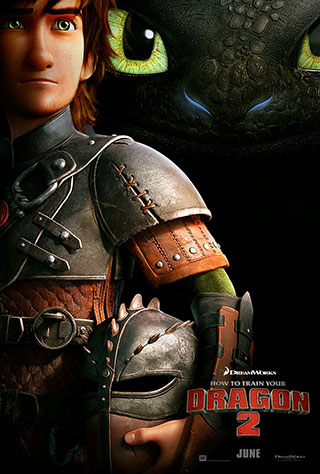 How to Train Your Dragon 2
In my article How to Train Your Dragon, I promised to be first in line to see the sequel. Now, I wasn't quite first in line but I did enjoy an advanced screening of it with my good friend Daniel.
How to Train Your Dragon 2 picks up the story of Hiccup, Toothless, Astrid and all our other favourites five years after the close of the first film. Where once the village of Berk relied only on their ships for trade and transportation, now they have dragons and the world is a much larger place.
Speaking of large, if you have seen How to Train Your Dragon, you will recall that behemoth dragon on the island. Well, he wasn't the only one, that's all I'm going to say.
What I love about this movie is that DreamWorks have embraced how diverse dragons can be and have taken it one step further. There are even more types of wyrms now than ever before and, another good thing, more vikings! We are introduced to a few new characters in this second instalment of the franchise and each is as interesting as the next.
But don't think for one moment that, just because Hiccup is a young adult now, he is suddenly boring and has lost his sense of adventure (and his slightly annoying voice). Far from it. This film is just as good—if not better—than the first and it will have you laughing, gasping and perhaps even crying before too long. I only have one gripe with this film and that's Hiccup's flaming sword. His other gadgets get explained but this one remains a mystery to me, one I would like unravelled! But apart from that extremely minor point, How to Train your Dragon 2 is practically flawless in my eyes.
I'm happy to add that John Powell has returned to score this film and the music is as good as ever. Now all I have to do is wait until 2016 rolls around and the third in the trilogy comes out! Is that long enough to train a dragon? I would like to arrive at the cinema in style.