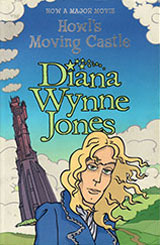 Howl's Moving Castle
It's been a while, I admit, since I bought a book from the Young Adult section of a bookshop. Indeed, for a long time, I considered my YA days to be over, never to be resurrected. In fact, I have heard it said that, once you mature to Adult Fiction, you never turn back. However, when one of my best friends recommended I read Howl's Moving Castle, and being a friend from whom I trust such recommendations, I went out and bought this Diana Wynne Jones tale, and immediately fell in love with it.
The story follows the adventures of Sophie Hatter in the fictional land of Ingary. Beginning the book as her stepmother's apprentice in her late father's hat shop, Sophie has resigned herself to live a dull life. But fate has other ideas for Sophie, beginning with the arrival of the Witch of the Waste, lured to the shop by the prospect of gaining information about Howl, a mysterious wizard rumoured to steal the souls of pretty women. When Sophie is unable to provide any information, however, the Witch places a curse on her, transforming Sophie into an old woman. Yearning to regain her youth, Sophie leaves the hat shop and finds the magical moving castle belonging to Howl. Entering the castle, she makes a bargain with Calcifer, a fire demon powering the house, and promises to help him lift his own curse if he would help her in return.
This YA novel is one of my favourite books and I have now read it three times. It has everything you would ever want in a story—magic, great characters, humour, twists, portals to other worlds, intrigue and true love—aww. If you haven't read it yet, I would strongly recommend you do.
On another note, if you haven't seen the Studio Ghibli adaptation either, check it out. Though the storyline differs in parts from the original, it's equally rich and endearing to me.